Cumbres & Toltec Scenic Railroad
---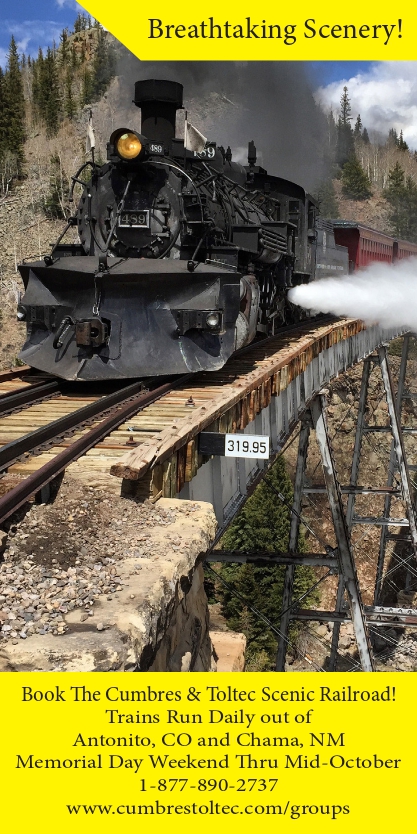 ---
Imagine, standing out in an open-air car, surrounded by the bright blue sky with warm sunshine, a light breeze from the leisurely speed of the train, the sound of the steam engine chugging along, and the wheels clickity-clacking on the rails. Now imagine traveling through aspen valleys, pine forests, watching volcanic formations passing by, and entering a tunnel, the light disappearing until you are in complete darkness. Then, a slight glowing light, growing as the train nears the other end of the tunnel. This imagery is a sample of what you will experience on the Cumbres & Toltec Scenic Railroad.
The Cumbres & Toltec Scenic Railroad, originally built in 1880 by the Denver and Rio Grande Railroad, is a living museum on rails. Taking passengers on a 64-mile journey through Colorado and New Mexico, showing many splendors only accessible by train. This all-day excursion can be enjoyed in three different coach classes, includes a hot lunch at Osier Station, and comes with staff and volunteers who love talking to guests and answering questions about their beloved train. Some who are 4th and 5th generation railroaders on the line!
Take a ride on the Cumbres & Toltec Scenic Railroad to see for yourself what is causing the buzz. Ranking #1 for USA Today's Reader's Choice 10 Best Awards as 2016 Best Scenic Railroad, 2017 Best Attraction in CO, 2017 Best Attraction in NM, and Best Scenic Railroad again in 2018, guaranteeing a railroad experience of a lifetime.
The railroad runs from Memorial Day Weekend through Mid-Oct with departures out of Antonito, CO and Chama, NM daily at 10:00 am. The Group Friendly facilities include bus parking, large restrooms, and a large dining facility making this the perfect activity for groups large and small. It is a wonderful addition to Colorado Train Tours, National Park Tours, and the Balloon Fiesta. Call 1-877-890-2737 today to speak to the group office or email groups@cumbrestoltec.com for more information.