Historic Fort Steuben/Steubenville Visitor Center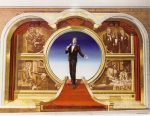 Business Name:
Historic Fort Steuben/Steubenville Visitor Center
Business Genre:
Active Adventures, Attraction, CVB, Dining, Great Photography Spots, Historical, Lodging, Midwest, Museum, Shopping, Student, Theaters and Shows, Tours
Long Business Description:
Historic Fort Steuben/Steubenville Visitor Center
120 S. 3rd Street
Steubenville OH 43952
History, archaeology, genealogy - the past is present in one of Ohio's oldest cities.  Founded in 1797, Steubenville is known as the City of Murals with 24 larger-than-life pieces on buildings throughout the city.  Each reflects the area and America's growth. Well-known figures like Abraham Lincoln and Steubenville's native-son Dean Martin share the fame with less familiar personalities such as Sloopy and Fleetwood Walker.  Knowledgeable and entertaining step-on guides are available to tell the stories behind each of the paintings as well as tales of historic downtown Steubenville.
Beyond the murals, there is so much more to see and do in Steubenville and Jefferson County:
Experience frontier life at Historic Fort Steuben, a completely reconstructed fort built on the original site overlooking the Ohio River. Adjacent to the fort is the First Federal Land Office west of the Alleghenies - built in 1801 as an early American home office. Copies of genealogy records of early settlers are on file here. Friendly tour guides present the stories and hands-on history that make the past come to life at these landmarks.  An on-going archaeology dig is on site with historical displays in the Fort Steuben Visitor Center. Find old-fashioned games and toys as well as historical books and souvenirs at the museum shop.
Marvel at the stained-glass windows and architecture of Steubenville's historic downtown churches. Tour the world-renowned Franciscan University of Steubenville with its Portiuncula Chapel, a reproduction of the site in Assisi, Italy. Stop at Nelson's of Steubenville to shop in one of the country's largest purveyors of religious art and decor.
Reminisce and shop at the Antique Warehouse: three floors filled with an incredible selection of antiques and memorabilia.
Commemorate the brave souls who worked to end slavery and operated the Underground Railroad by touring the Quaker Village of Mount Pleasant. Enjoy locally produced wine at Black Sheep Vineyard or one of The Farm Restaurant's specialty desserts.
The holiday season brings out the area's newest attraction: Steubenville Nutcracker Village and Advent Market, featuring over 150 life-size nutcrackers depicting characters from literature, movies, professions, legends and music under an array of colorful lights and music. The Christmas Wonderland and Gift Shop, Drosselmeyer's Nutcracker Shoppe and other merchants offer additional holiday shopping and fun.
Excellent lodging options and a variety of dining experiences make an overnight stay in Steubenville a unique travel experience.

Send Message to listing owner
Listing Title: Historic Fort Steuben/Steubenville Visitor Center