Grand Hotel, Mackinac Island, Michigan
---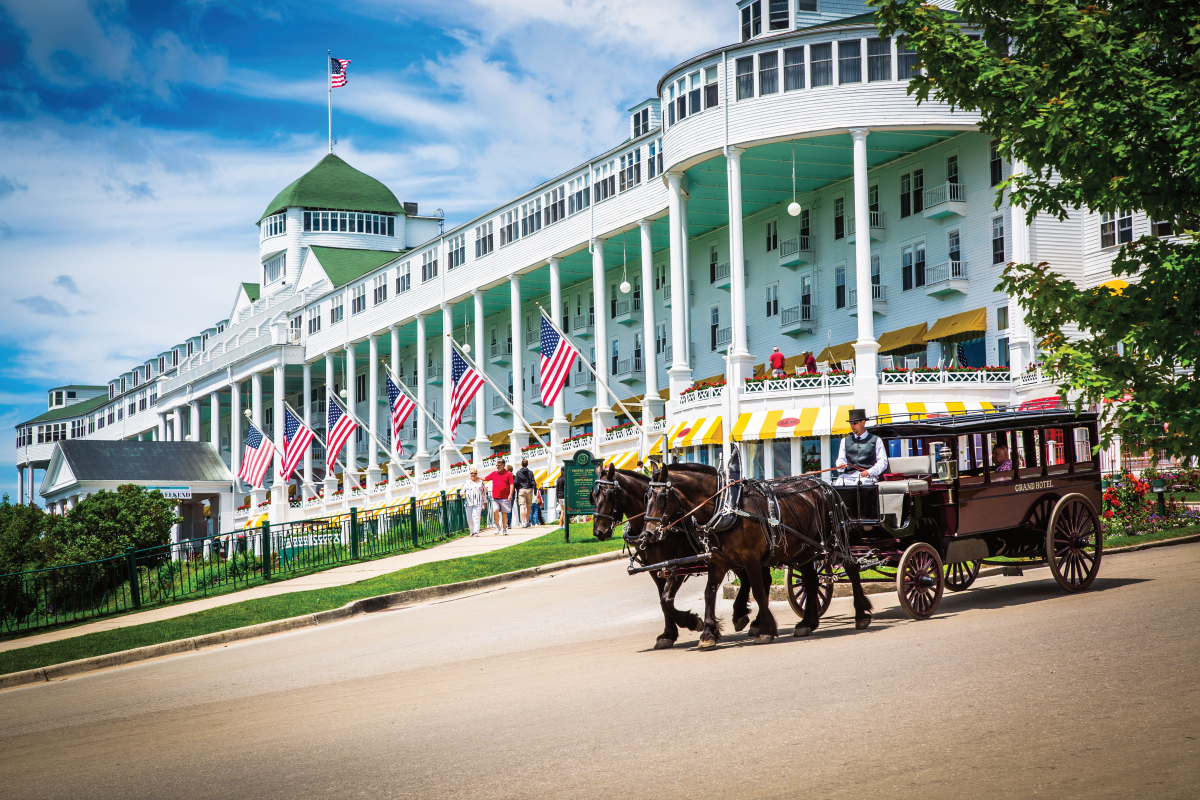 ---
Since 1887, the Grand Hotel has been a pinnacle of elegance. Also known as America's Summer Place, Grand Hotel beckons guests to a bygone era of old-world hospitality and charm. Family owned for three generations, this National Historic Landmark is truly one of a kind. Guests return to a time of horse-drawn carriages, afternoon tea and garden walks. Live music serenades throughout the day and evening.
Throughout Grand Hotel's history, dining has been an exceptional feature of the guest experience. Here, meals are an event, and after 6:30 p.m, guests dress up for meals. Groups visiting for the day can enjoy the legendary Grand Luncheon Buffet in the Main Dining Room. A multi-year winner of the ­TripAdvisor Certificate of Excellence, the Grand Luncheon Buffet includes an assortment of options. From the fresh salads and slow-roasted meats to the seafood and fresh-baked pastries, the Grand Luncheon Buffet is designed to delight the senses. After lunch, tour the grounds, explore the hotel and take in the views from a rocking chair on the world's longest porch. Guests who stay overnight, retreat to one of 397 uniquely decorated guest rooms. Their stay includes a full breakfast and dinner daily.
The trip to Grand Hotel is part of the fun. From the moment guests leave the mainland and board the ferry for a 15-minute ride over Lake Huron to Mackinac Island, they can begin to leave the stress of modern life behind. Grand Hotel and Mackinac Island offer many activities including swimming, garden tours, a spa and afternoon tea in the parlor. Mackinac Island has a wealth of activity for visitors. Guests are invited to take horse-drawn carriage rides or to go for a hike and explore the island. For shopping, experience Mackinac Island's downtown shops, which have something for everyone. Survey unique stores like Murdick's Main Fudge Shop and Lilacs & Lace Gift Shop. History buffs will love the former British and American military outpost, the historic Fort Mackinac.
Grand Hotel is the place for groups ­seeking old-world grace. For more information, visit grandhotel.com, e-mail ­grouptours@grandhotel.com or phone (800) 33GRAND and ask for the group tour ­coordinator.