Outdoor Arts and Adventure Abound in Gallup, New Mexico
September 21, 2020
0 Comments
---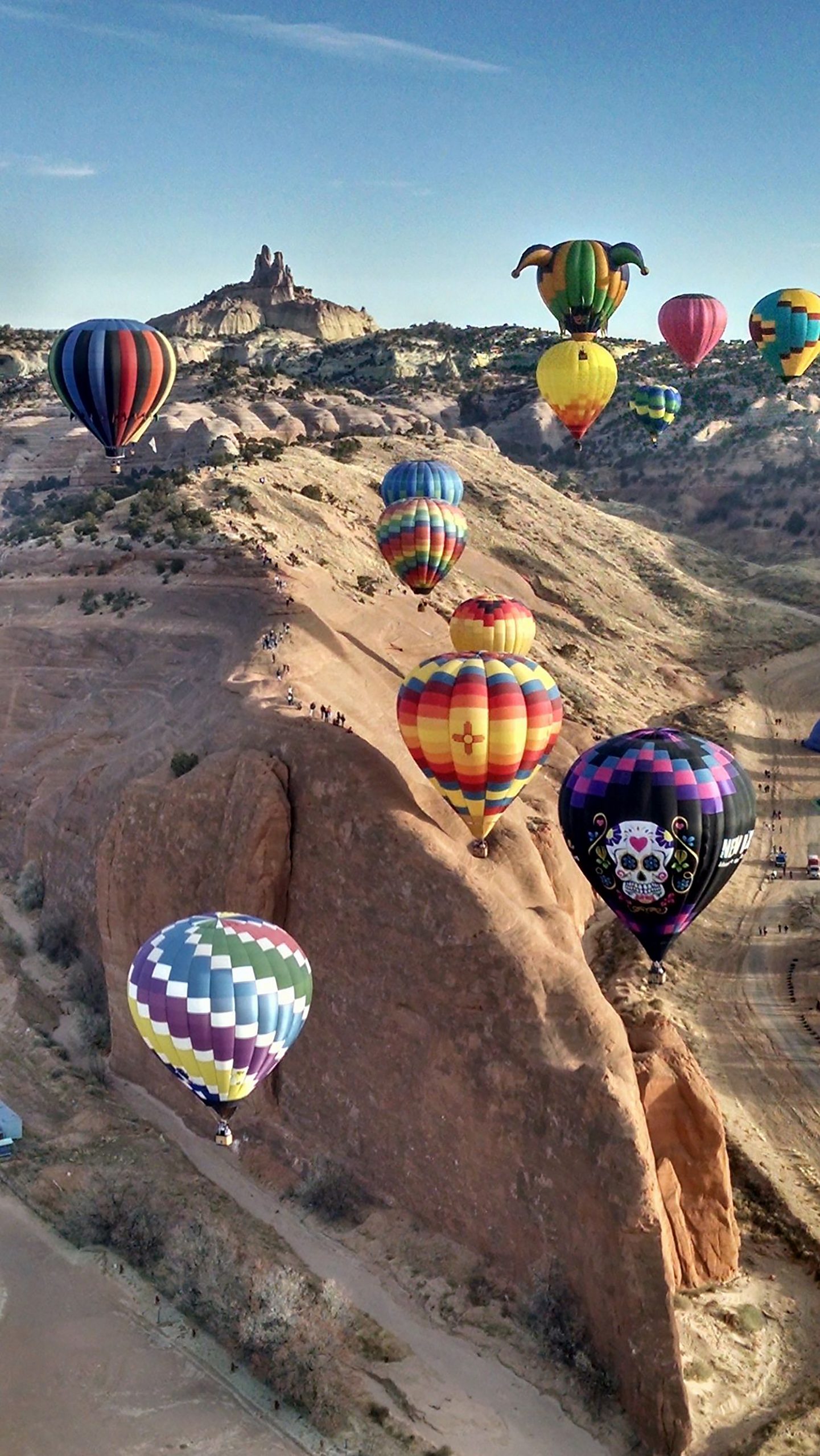 ---
The Southwest is full of incredible hikes, bikes, and views, and New Mexico offers so much more than people realize. Gallup, only 30 miles from the Arizona border and just about an hour from the Petrified Forest, offers miles of gorgeous views both in natural beauty and unique
artistic endeavors.

Hikes, Bikes, and Hot Air Balloons
Gallup is home to over 30 miles of hiking and biking trails that are easily accessibly off of Interstate 40 and Route 66. The amount of miles means there is something for everyone from a senior who just wants to capture photos of the vistas from the trail heads, to the more experienced hiker or mountain bikers who are looking for paths less traveled.
Red Rock Park Trails
This is by far the best place to take a group for beautiful views in Gallup but without all the hiking involved. Both trailheads afford stunning views of Pyramid Peak and Church Rock without ever climbing up to the top. If adventures feel like hiking, Gallup's Red Rock Park includes two trails that connect with each other. Pyramid Trail is three miles round trip from the
trailhead. You can hike up to the top of the Pyramid and gather breathtaking views of Gallup and the old bunkers of Fort Wingate. Church Rock Trail is a two-mile round-trip hiking experience that leads you up to the sandstone spires for which the trail is named. These are Gallup's most
popular hiking trails and when you see the views, you'll know why! This park also includes the unique Red Rock Park museum, so guests can experience a small museum full of incredible Anasazi and Navajo artifacts as well as take in the views.
High Desert Trail System
The High Desert Trail system is comprised of over 22 miles of trail. It's suitable for an afternoon or an all-day epic hike or bike ride. The trail is single track and organized into three loops with connectors. The trail landscape changes dramatically from the west end to the east end of the
system, making it a fantastic place to explore. This trail system is close to town and close to two interstate exits. The trail landscape also includes unique rock sculptures, metal sculptures, sun dials and more.
University of New Mexico- Gallup Trails
This small trail system is a hidden gem on the south side of Gallup off of Boardman Avenue. These trails total about 1.5 miles and offer outdoor athletic equipment alongside the trail. The trail is crushed rock which makes it easy for anyone just looking for a nice stretch from being on
the road. The best part of this trail- stunning views of Pyramid Peak and the hogback red rocks. Sunset from this trail is also gorgeous. This is a great small hike for groups looking to capture views of the stunning scenery, stretch their legs, and then head to dinner or hop back on the road.
There is ample parking next to this trail.

Hot Air Balloons
Gallup is home to four hot air balloons that take flight and hop in an out of the red rock canyons. Each balloon only holds no more than two to three guests, so this is the perfect experience for a small group. The pilots also work together to schedule larger groups across all the balloons and
in shifts so that everyone can take advantage of such an incredible experience. The ballooning in Gallup is special because you get to see the incredible southwestern scenery without the costs of a big ballooning company in larger cities. (www.scenicballoonrides.com)

Exploring the Arts Outside
One of the most special aspects of the Gallup, New Mexico, area is the incredible arts scene. Not only are the Navajo and Zuni the two largest silver-smithing tribes in the world, but they also foster some of the best painters and muralists in the southwest. All across Gallup there are
murals and art works by a wide variety of artists.

Downtown Gallup Mural Walking Tour
Downtown Gallup has more than 17 murals all within a less than 1.5 square mile area. In the early 2000s, various local artists were commissioned to retell Gallup's story through these downtown murals, and in the last three years Gallup's Mainstreet and arts council organizations have sponsored the addition of not only four more large murals, but of an entire trash can art project, where all downtown planters and trashcans were conceptualized by artists from across our community. The mural walking tour can be found here:
https://galluprealtrue.com/experience-art-culture/murals-around-gallup-downtown-walkingtour and costs nothing for the public to enjoy.
Historic Western Buildings and Architecture Gallup has been growing since 1881, and citywide there are a wide variety of historic buildings creating a sense of the west. The downtown area is home to the Spanish Mission
style McKinley County Court House, built in 1938-39, the historic El Morro Theatre (which is in the Spanish Colonial Baroque style), built in 1928, and all of the old buildings down Route 66. The historic El Rancho Hotel, built around 1936, was home to the western film stars and still looks like it did back in the day. In addition, they have added gorgeous outdoor patio dining for guests to the community.
Don't miss your opportunity to take a group on a unique Route 66 historic experience on a quick stop off of I-40, only 30 miles from the Arizona border. For more information about Gallup's arts and cultural offerings or a listing of traders visit www.galluprealtrue.com, email Jennifer, the
Tourism and Marketing Manager at jlazarz@gallupnm.gov, or call (505) 863-1227 for more information.