Sugar Creek Alpine Hills Museum
---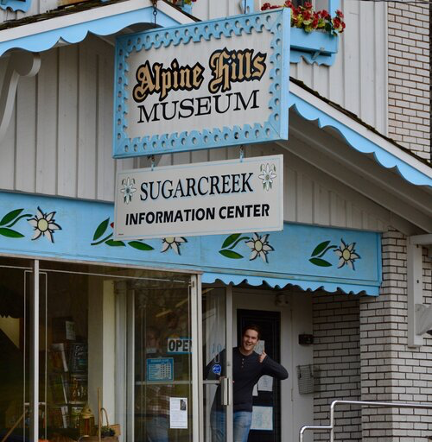 ---
Sugarcreek is the Little Switzerland of Ohio. How can you make such a claim? In the 1800s Swiss immigrants were drawn to this area because it reminded them of their homeland. Even though Ohio doesn't have mountains like the Alps it does have rolling green hills. The Swiss brought their strong work ethic, copper kettles, alphorns, and love of music and dancing. They found the rolling hills had good grasses for their cows to produce superb milk for Swiss cheeses.
    Over time, many cheese houses and dairies covered the area. Then they organized as The Ohio Swiss Cheese Association. Sugarcreek was chosen as the home of the Ohio Swiss Festival due to its location among the cheese factories. This festival was started in 1953 and continues to the present time. The dates for the festival was decided to be the fourth weekend after Labor Day.
    Yet Sugarcreek has always been more than cheese. Along with the Swiss immigrants came the Pennsylvania "Dutch" or Amish moving west for more land to support their growing families. They have a large impact on the culture in Sugarcreek. They own small businesses in the area, in addition, to farming. They also work for " the Englishers" in factories, construction, and retail. Due to the Amish influence "No Sunday Sales" is frequently displayed. Also religious holidays like Ascension Day and Epiphany (Old Christmas) are observed with some businesses closed.
    The village of Sugarcreek currently displays the "Worlds Largest Cuckoo Clock" on the square of Broadway and Main. Every half an hour a band plays and dancers dance to the tune of a polka. You will also find gift shops, fabric/quilt shop, book store, tee-shirt shop, Amish bakery, bulk food store, and antiques. One of the gems you don't want to miss is the Alpine Hills Historical Museum with three levels of local history and artifacts.
Finally, if you need a meal or rest there are several restaurants in the area, motels, and B & Bs. Come spend a relaxing day in Sugarcreek.
Becky Detwiler
Curator of Alpine Hills Historical Museum