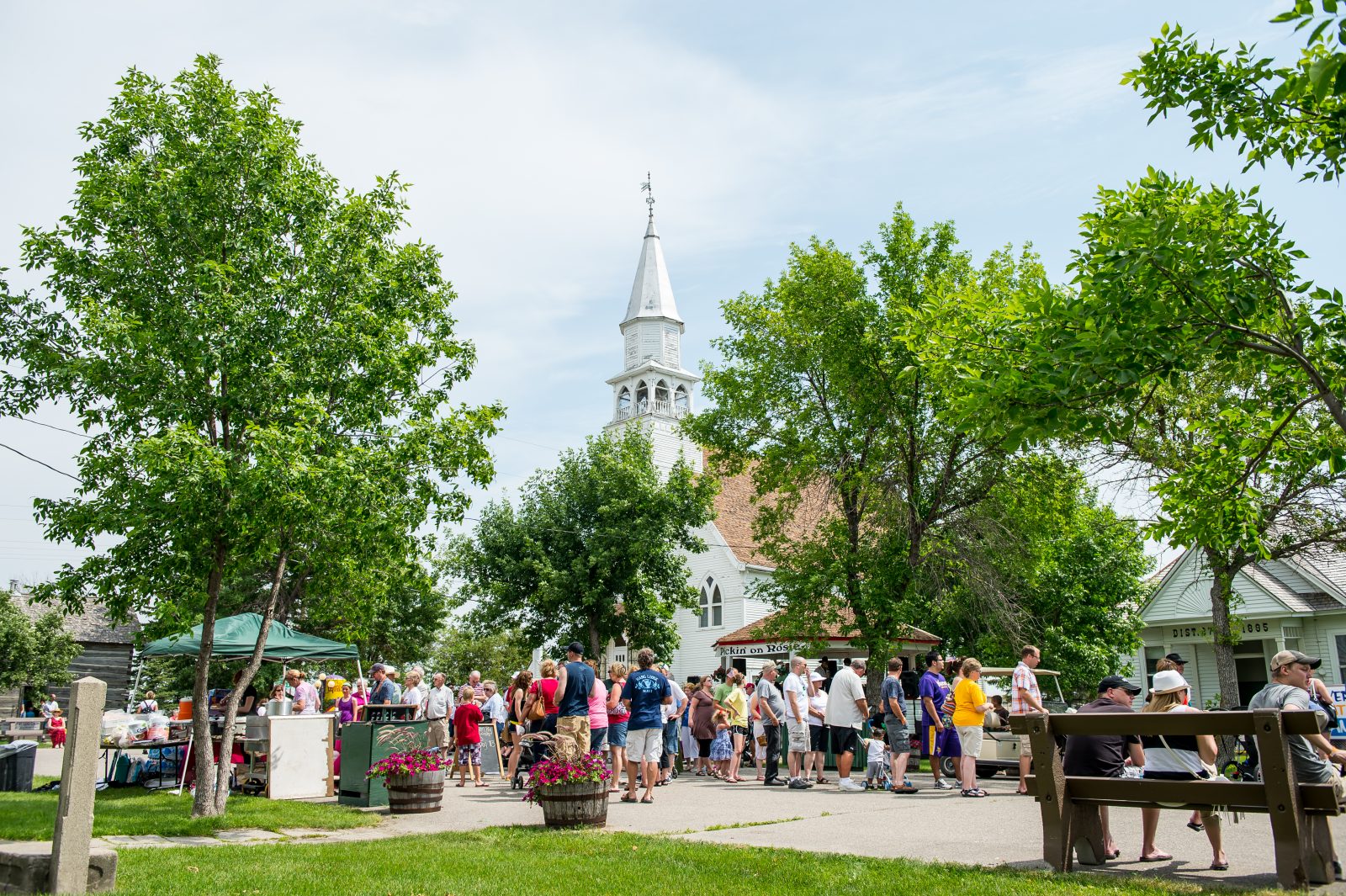 Bonanzaville
West Fargo, North Dakota
Cass County Historical Society invites groups to explore the history of North Dakota and the Red River Valley at Bonanzaville, "Where the Past Meets the Future." Bonanzaville is home to 40 buildings and 400,000 artifacts on 12 acres just west of West Fargo, North Dakota. The history of America embraces guests through such historic buildings as Fargo's First House, the Brass Rail Saloon and the Houston Mansion. Guests can also visit the antique car museum, the very first Steiger tractor, an airplane museum and an interactive telephone museum.
Established in 1954 by the Cass Country Historical Society, Bonanzaville has continued to grow and accumulate buildings and artifacts. The size of the main exhibition museum and the pioneer village allows for a unique visitor experience. Bonanzaville staff has also created special events and programming to make each guest's visit memorable. Through these exhibits, events and programs, groups can see what life was like for some of America's earliest settlers. In partnership with North Dakota State University, Bonanzaville was able to create a series of walking tours available on the Pocketsights mobile app. These tours encourage guests to step into history provide historic photos, in depth information and videos about all of the buildings located throughout the village.
Bonanzaville offers several special events throughout the year.  These include the July 4th Celebration, Pioneer Days on August 17 and 18, murder mysteries on select Tuesday evenings in June and July, ghost tours on October weekends, paranormal investigations on October and September weekends and Christmas on the Prairie every December 7. Each event presents a different one-of-a-kind experience that groups will not want to miss. A special treat within the July 4th Celebration, Pioneer Days and Christmas on the Prairie is that each lets guests experience historic demonstrations from blacksmithing to threshing.
Bonanzaville offers a group tour rate of $8 per person for groups of 10 or larger.  Hours differ seasonally.  From May to the end of August, Bonanzaville is open Monday through Friday, 10 a.m. to 7 p.m., Saturday 10 a.m. to 5 p.m. and Sunday 12 p.m. to 5 p.m..  The hours for the month of September are Monday through Saturday, 10 a.m. to 5 p.m. and Sunday 12 p.m. to 5 p.m..  In October, hours are Saturday 10 a.m. to 5 p.m. and Sunday 12 p.m. to 5 p.m.  For more information, phone (701) 282-2822 or visit bonanzaville.org. 
Boys Town USA
Douglas County, Nebraska
Boys Town began in 1917, when a young Irish priest named Father Edward J. Flanagan opened Father Flanagan's Home for Boys and welcomed in all boys, regardless of race or religion. Today, the village of Boys Town is home to more than 400 boys and girls.
Tours of the famous Village begin at the Visitors Center, where a step-on guide greets the bus and conducts a driving tour through the village. Tour passengers discover how Boys Town's programs developed and how Boys Town continues to change the way America cares for children, families and communities. 
The Hall of History museum presents the first 100 years of Boys Town's history through permanent exhibits that use audio and video presentations. Some of the artifacts on display include the Best Actor Oscar presented to Spencer Tracy for his role as Father Flanagan in the film Boys Town and the Flxible Visicoach bus that once carried Boys Town athletic teams across America. The Father Flanagan House museum is the former residence of Boys Town's founder, and the home's décor reflects the year 1929, when Flanagan would have been in residence.
Rising from the landscape in the tradition of a 15th-century Gothic church, the Dowd Memorial Chapel of the Immaculate Conception has stood at the center of the Village of Boys Town for more than 60 years. The Herbert B. Chambers Protestant Chapel of the Nativity of Our Lord is the spiritual home for the village's Protestant youth. The Chambers Chapel's Gothic architecture was specifically chosen to complement Dowd Chapel. Both chapels stand equidistant from "The Work Continues" Statue, the new bronze statue of Boys Town that was unveiled for the nonprofit's 100th anniversary in 2017.
Their experienced and friendly tour guides offer groups an insider's perspective on life in village and share stories about the special moments and figures that make up Boys Town's illustrious past. Passengers can augment their physical tour with the Interactive Boys Town Tour; all that is needed is a Smartphone. By simply scanning a QR code, visitors gain access to photos and videos of the village's top attractions.
Tours can be customized to fit the group, and can include, among other options, a picnic lunch, dining in the café or attending a religious service in one of the chapels. For more information, phone (800) 625-1400 or visit boystown.org/tours.
Cosmosphere
Hutchinson, Kansas
No trip to the heartland is complete without a stop at one of the world's finest science education centers and space museums—the Cosmosphere. Visitors to Hutchinson, Kansas, are amazed that a place like the Cosmosphere exists outside of a major metropolitan area, but it does. Founded in 1962 as a place for the community to see planetarium shows and learn about science and astronomy, the Smithsonian-affiliated Cosmosphere currently features one of the most significant collections of U.S. and Russian space artifacts in the world. To continue reading click here.
Adams Mystery Playhouse
Denver, Colorado
Welcome to Adams Mystery Playhouse, Colorado's only full-time interactive Murder Mystery Dinner Theatre, producing interactive comedy shows since 1990. Your group will remember this event for years to come as you can rely on a unique and quality entertainment experience. Thanks to these happy reviews, you can also depend on Adams' staff: Voted "Best Theater" on Denver's A-list; 4.5 stars on Trip Advisor; 4.7 on Facebook reviews and People Love Us on Yelp. The signature productions at Adams include performers who have graced the stages of Los Angeles, New York and Chicago. Adams' special brand of actors can be seen in film, T.V. productions, cruise ships, comedy clubs and musical productions all over the country.  To continue reading click here.
Fargo Air Museum
Fargo, North Dakota
Located just off I-29 interstate, Fargo Air Museum is an easily accessed, must-stop location. North Dakota's premier aviation destination, the Fargo Air Museum's dual hangars house aircraft of all eras – from a modern drone to the "most accurate recreation of a Wright Brothers' flyer the Smithsonian Institute has ever seen." 
In addition to housing civilian and military aircraft, Fargo Air Museum is a longtime supporter of service people from all branches and eras. The museum hosts a complimentary coffee and donut social every second Wednesday monthly from 10 a.m.-noon at no charge to veterans. More often than not, members of various area military assistance programs are in attendance, spreading knowledge & support to visiting veterans. To continue reading click here.
Stafford Air & Space Museum
Weatherford, Oklahoma
The Stafford Air & Space Museum, in Weatherford, Oklahoma, is named in honor of legendary test pilot and astronaut Lt. General Thomas P. Stafford, born and raised in Weatherford. His mother came to Oklahoma in a covered wagon and lived to see her only child fly to the moon. Stafford was among the second group of astronauts selected by NASA in 1962 and flew four historic space missions. For his efforts as Joint Commander of the U.S. and Soviet Apollo-Soyuz mission, Stafford received a Nobel Peace Prize nomination and has received the Presidential Medal of Freedom and the Congressional Space Medal of Honor, among other awards. To continue reading click here.
National Museum of the Pacific War
Fredericksburg, Texas
     National Museum of the Pacific War honors the millions of Americans who met and defeated the greatest threat to freedom and democracy of the 20th century. It is the most comprehensive and engaging museum dedicated to the Pacific War  and the perfect veteran-friendly stop for a motor coach bus tour. Spread across more than 6 acres, the complex has more than 50,000 square feet of indoor exhibit space, including modern, interactive exhibits, state‐of‐the‐art media and an extraordinary array of unique artifacts in addition to the outdoor exhibits that also line the campus. To continue reading click here.
Prairie Band Casino
Mayetta, Kansas
A new adventure awaits motorcoach tour passengers at Prairie Band Casino & Resort. As soon as they walk through the doors, they are open to endless gaming possibilities, surrounded with so many ways to be entertained, all while eating the most delicious food. At the end of the night, when after exhausting their ability to play, eat and drink, bus passengers have the option to settle into a comfortable bed in a luxurious hotel room.
Owned by the Prairie Band Potawatomi Nation, the Prairie Band Casino & Resort is the best bet for motorcoach tours in Kansas. It brings the newest games, the best food, EPIC Entertainment and superior service. To continue reading click here.
Rapid City, South Dakota
Visiting America's National Parks is always rewarding, offering exceptional access to nature, history and inspiring stories. But 2016 promises an even greater experience, thanks to two significant anniversaries: The National Parks Service Centennial and the 75th Anniversary of the Completion of Mount Rushmore National Memorial.
With multiple parks and monuments within a short driving distance, including world-famous Mount Rushmore, Rapid City is the place to be for anniversary events in 2016. Whether you catch special programs throughout the year or plan to be on the scene for the grand anniversary events, 2016 will be a banner year for a Black Hills Vacation. Make this the year you discover the transformational power of exploring a new trail, communing with nature or being touched by another era – right in Rapid City.et list-worthy experiences, Rapid City, South Dakota is the ideal touring destination where every day has big potential.  To continue reading click here.
Kearney, Nebraska
Kearney is situated on Interstate 80 in south central Nebraska and along Highway 30 (a.k.a. Lincoln Highway), the halfway point, 1,733 miles from San Francisco and 1,733 to Boston. Kearney is the ideal mid-point stop when headed through Nebraska. There are 1,700 affordable hotel rooms, which are conveniently located less than a mile from the interstate. Your group will find comfort staying in one of the many limited-service hotel chains that serve a hot and hearty complimentary breakfast. If your group prefers a full-service property, a couple of those are available, too. To continue reading click here.