Here are excellent reasons why you might consider it.
Bus and group tours are the fastest growing segment in the travel industry, and due to baby boomers and students, sales are increasing.
Scores of Customers arrive in each motorcoach (50+/-) who can spend $2,000 to $10,000 per bus, each day the bus stays in town ($40 to $200/person).
Multiple Tours per bus planner or tours over time, providing many happy returns, year to year, for repeat business, referrals and endorsements via happy tourists and bus or group tour networks.
Multiple age brackets, yet targeted by group: student tours, reunions, veterans, the 40+ club and/or senior tours.
Added income during shoulder seasons or slower days of the week.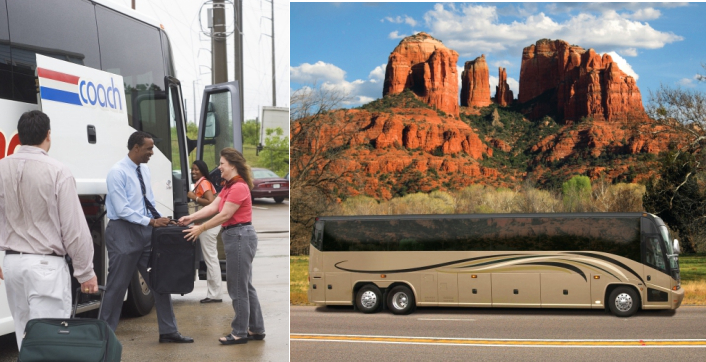 How Do You Attract Bus Tours?  

Invite them!


I

n Bus Tours Magazine!
           

Why Advertise in Bus Tours Magazine?
Founded in 1979, our print edition is the oldest independent magazine in the industry, a bi-monthly, four-color glossy publication whose founder/editor owned and operated buses, a bus tour company, and is a respected industry expert.
Issues are Digitally Available on our website for the past three years.  View a current issue or an archive of past issues on our website: 

www.bustoursmagazine.com

; or request a print copy.
More than a Magazine – Digital ads, editorial and videos are welcomed, including your calendar of events, sample itinerary, promo video clip etc.
We Reach NTA and ABA Members, PLUS privately owned bus tour planners, owners and operators.
Readership, circulation and editorial are bus tour planner oriented, for an estimated 20,000 readers in North America.
In-depth editorial focuses on bus-friendly attractions and events, helpful bus travel tips, changing demographics and special regional features, linking bus-friendly advertisers directly to bus tour planners and providers.
What should my Advertisement in Bus Tours Magazine Include?
1. A Special Invitation that targets bus tour planners and their clients rather than family or individual leisure travelers.
2. Location, Distance, Accessibility from main highway or city.
3. Reasons they should visit.
4. Group Rates, if available.
5. Comps, if available, such as admissions, meal(s) or lodging for the driver and tour escort.
6. Packaging, if available.  Partner with neighboring tourist attractions and locations, perhaps a town, lodging, eateries, museum(s), theater, casino or state park.  Offer variety to make them want to stay, not merely stop for fuel or a restroom break.
7. PROMO Code and Hospitality Incentive, to track Return on Investment, perhaps offer welcome bags (brochures, site map, gift shop coupon), starter gaming money, a private reception, etc.
8. Information Sheets, if available. – Guidelines that a bus tour planner, driver and group need to know, such as parking and loading zones, arrival and departure times, in print or digitally.
9. Sales Preference – Select seasons, days or the timeframe you are looking to entertain tour groups.
10. Contact Information – Provide a name, address, phone number and e-mail address where the tour planners can obtain more information for group sales.