Oil Creek & Titusville Railroad Fall Foliage Tours
March 10, 2021
0 Comments
---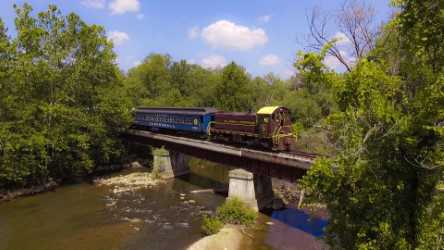 ---
What do you get when you combine a vintage train, Oil Creek State Park, the history of "the Valley that Changed the World" and fun-loving volunteers? You have all the necessary ingredients for a beautiful day on the Oil Creek & Titusville Railroad.
Journey through "the Valley that Changed the World", a 3-hour trip, that begins at Perry Street Station at 409 South Perry Street Titusville, PA. It moves you towards Drake Well Museum and Park, home to Col. Edwin L. Drake's oil well that started the Oil Boom, on August 27, 1859. You then move into Oil Creek State Park, it is 13.5 miles to Rynd Farm, the end of our recreational track. After a short stop at Rynd Farm, you will re-board the train for the return trip to Perry Street Station. Along your trip you will hear much of the history of the Oil Creek Valley, along with stories of the many characters involved in the development of the Oil Creek Valley and what eventually went on to become the Oil Industry. The OC&T is home to the only operating Railway Post Office car in the United States. We also have an open gondola car that anyone riding the train has access to, which is a standing car only. While on the train, you may have the chance to see bears, whitetail deer, eagles, and blue herons along with the beautiful Oil Creek itself. Passengers also have the option of riding in the First-Class Wabash car or one of the coach cars.
The Oil Creek & Titusville Railroad also hosts several Murder Mystery Dinners throughout the season. Dinner is catered in the historic Perry Street Station, and you will be welcomed with Act 1 while eating. Act 2 is provided on the train, as you move through Oil Creek State Park, and then you return to Perry Street Station for Act 3, dessert and to vote on, Who dun' it?
Tickets for OC&T are available for all runs by calling 814-676-1733. Please check our website for upcoming events, www.octrr.org , or follow us on Facebook at Oil Creek & Titusville Railroad. For more general Crawford County information please visit our website www.visitcrawford.org .