U.S. Naval Academy/Armel-Leftwich Visitor Center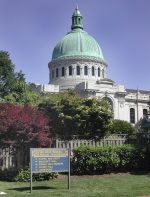 Business Name:
U.S. Naval Academy/Armel-Leftwich Visitor Center
Long Business Description:
Annapolis, Maryland
A must-stop for motorcoach tours in Annapolis is the U.S. Naval Academy, a 338-acre campus known as the Yard, located along the banks of the Severn River. The prestigious four-year academy has been training future officers for the U.S. Navy and Marine Corps since 1845. Designated a National Historic Site in 1961, it is home to the largest collection of Beaux-Arts style of architecture in the U.S.
Group walking tours of the Yard are available daily from 9 a.m. to 3 p.m., except for Thanksgiving, Christmas and New Year's Day, and are given by official Naval Academy tour guides, who discuss the history and traditions of the academy and midshipmen life. Highlights of the walking tours include the Naval Academy Chapel, the centerpiece of the Yard's park-like quadrangle; Bancroft Hall, the midshipmen's dormitory with five miles of hallways; Tecumseh Court, where a statue of the Indian warrior watches over the impressive noon formation of midshipmen; and the crypt of John Paul Jones, famous Revolutionary War naval hero famous for his quote, "I have not yet begun to fight." 
Following the guided tour, bus passengers may visit the Naval Academy Museum, located in Preble Hall, to see the famous Gallery of Ships and more than 50,000 naval artifacts. Group tours are available; contact Grant Walker, education specialist, at walker@usna.edu.
Visits to the Yard begin at the Visitor Center. This state-of-the-art facility, which overlooks Annapolis Harbor and the Chesapeake Bay, features an Information Center, Quarterdeck exhibits, free film (100 seats), Graduates in Space and John Paul Jones exhibits and an original Dahlgren boat howitzer. Tour passengers will want to include time to shop the finest selection of tax-free clothing, hats, gifts and souvenirs at the Naval Academy Gift Shop.
Bus tour passengers may choose between two onsite dining options. The Drydock Restaurant, located in historic Dahlgren Hall, welcomes students and adults and offers deli sandwiches, salads, pizza, snacks and beverages for groups at reduced prices (group reservations required; email drydock@usna.edu). The Naval Academy Club is available for adults only (groups reservations required; email clubreservations@usna.edu).
Buses drop off passengers outside the Yard at Annapolis City Dock.  Groups enter one of two pedestrian entrances at Gate 1 (Prince George or King George Streets) and pass through the Visitor Access Center (VAC). All visitors 18 and older must have a government-issued photo ID; international visitors must have an original passport. Large groups should allow 15 minutes for admission through the VAC. Visit usnabsd.com/for-visitors to see what states require a second ID and a link for acceptable forms of ID. The academy offers tour operator rates, which is $1 off the public rate and 50 cents off the group rate. One comp is offered for every 35 paid, and the tour price includes a souvenir. A deposit of $50 is required; tour is confirmed upon receipt of deposit and signed letter of confirmation.
Buses may park all day for $10 at Navy-Marine Corps Stadium, about a mile-and-a-half away via Rowe Blvd. (no shuttle service or restrooms). A dump station and minor repair services are available at Chesapeake Charter, 424 Broadneck Road, Annapolis; contact John Lonergan, owner, at (410) 757-3000; www.chesapeake-charter.com.
A variety of student and adult tour themes/packages are available. For more information about tours and scheduling groups, see the Visitor Center website at usnabsd.com/for-visitors or phone the Scheduling Office at (410) 293-8112.
Send Message to listing owner
Listing Title: U.S. Naval Academy/Armel-Leftwich Visitor Center